Welcome Chef Eric to the Rideau Club Team!
Rideau Club Executive Chef / Chef exécutif du Rideau Club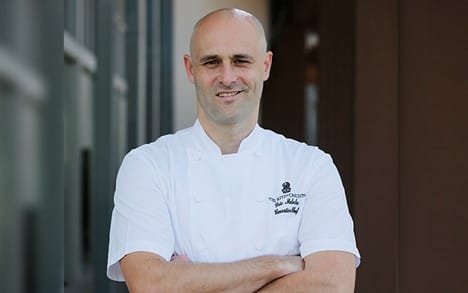 I am excited to announce the appointment of Eric Meloche as Rideau Club's new Executive Chef.  Eric will join us at the Club starting on Monday, February 6.
A native of Amherstburg, Ontario, Eric's culinary escapades began on weekends breading frog legs, perch, pickerel, and working the grill at "Classic's on the Water", where his sister was a waitress. His eyes would soon be open wide in the grand kitchens of the iconic Banff Springs hotel, where he would be one of five apprentices selected in 1998. Completing his Journeyman Red Seal certification, Eric then joined the team in The Banffshire Club, the hotel's signature fine dining restaurant, which would later go on to earn the coveted AAA Five Diamond award.
Wanting to gain international experience, Eric joined The Ritz-Carlton Amelia Island, in Fernandina beach Florida in 2003. He would go on to hold positions at several Ritz-Carlton properties worldwide to include Montego Bay, Jamaica; Half Moon Bay, California; Co. Wicklow, Ireland, where he was awarded The Ritz-Carlton "Executive Chef of the Year" for Europe in 2012, Dubai, UAE, and most recently Muscat, Oman.
In his last role at Al Bustan Palace, a Ritz-Carlton hotel, Eric was charged with overseeing F&B operations of the hotels 5 outlets, In Room Dinning, as well as Banqueting operations. New projects he initiated for the resort included the creation of "Cat Island Sea Salt", a handcrafted finishing salt used to produce the hotel's signature sea salt caramels, as well as an organic mountain honey produced in house from the Palace's bee farm.
Eric's greatest passions have been the creation of new menus and concepts, as well as the design and opening of multiple award-winning restaurants. An avid outdoorsman, Eric spends his free time with his wife and three children mountain biking, fishing, and enjoying nature.
"I am thrilled to be joining the Rideau Club and I look forward to building on the many successes of the team. I am also looking forward to establishing a robust apprenticeship program, so we can support and mentor the next generation of chefs looking to join such an exciting industry." – Eric Meloche
Please join us in welcoming Eric to the Rideau Club and kindly extend all your support to him. We wish him every success in his new position.
Carol-Ann Goering
Secretary
//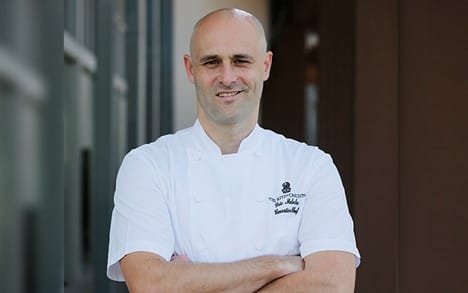 Je suis heureux d'annoncer Eric Meloche comme nouveau Chef exécutif du Rideau Club. Eric se joindra au Club à partir de lundi, le 6 février.
Originaire d'Amherstburg en Ontario, les aventures culinaires d'Eric ont commencé les week-ends où il panait des cuisses de grenouilles, de la perche, du brochet et de travailler au gril de "Classic's on the Water", où sa soeur était serveuse.
Ses yeux s'ouvriront bientôt dans les grandes cuisines du célèbre hôtel de Banff Springs, où il sera l'un des cinq apprentis sélectionnés en 1998.
Après avoir obtenu sa certification Sceau rouge, Eric a rejoint l'équipe du Banffshire Club, le restaurant gastronomique de l'hôtel, qui a ensuite reçu la distinction très convoitée de cinq diamants de l'AAA.
Souhaitant acquérir une expérience internationale, Eric a rejoint le Ritz-Carlton Amelia Island, à Fernandina beach en Floride en 2003. Il a ensuite occupé des postes dans plusieurs propriétés du Ritz-Carlton à travers le monde, notamment à Montego Bay, en Jamaïque; à Half Moon Bay, en Californie; à Co. Wicklow, en Irlande, où il a reçu le titre de "Chef exécutif de l'année" du Ritz-Carlton pour l'Europe en 2012; Dubaï, aux Émirats arabes unis, et plus récemment Muscat, en Oman.
Dans son dernier poste à l'Al Bustan Palace, un hôtel Ritz-Carlton, Eric était chargé de superviser les opérations de restauration des 5 points de vente de l'hôtel, ainsi que les opérations de banquet. Parmi les nouveaux projets qu'il a lancés pour le resort, on compte la création du "Cat Island Sea Salt", un sel artisanal utilisé pour produire les caramels au sel de mer caractéristiques de l'hôtel, ainsi qu'un miel de montagne biologique produit sur place par l'exploitation des abeilles du Palace.
Eric s'est surtout passionné pour la création de nouveaux menus et concepts, ainsi que pour la conception et l'ouverture de plusieurs restaurants lauréats. Passionné de nature, Eric passe son temps libre avec sa femme et ses trois enfants à faire du vélo de montagne, à pêcher et à profiter de la campagne.
"Je suis ravi de me joindre au Rideau Club et j'ai hâte de m'appuyer sur les nombreux succès de l'équipe. J'ai également hâte d'établir un solide programme d'apprentissage, afin que nous puissions soutenir et conseiller la prochaine génération de chefs qui cherchent à rejoindre une industrie si passionate."
– Eric Meloche
Veuillez nous rejoindre pour accueillir Eric au Rideau Club et lui accorder tout votre soutien. Nous lui souhaitons beaucoup de succès dans son nouveau poste.
Carol-Ann Goering
Secrétaire