Order your Valentine's Day Gift Box!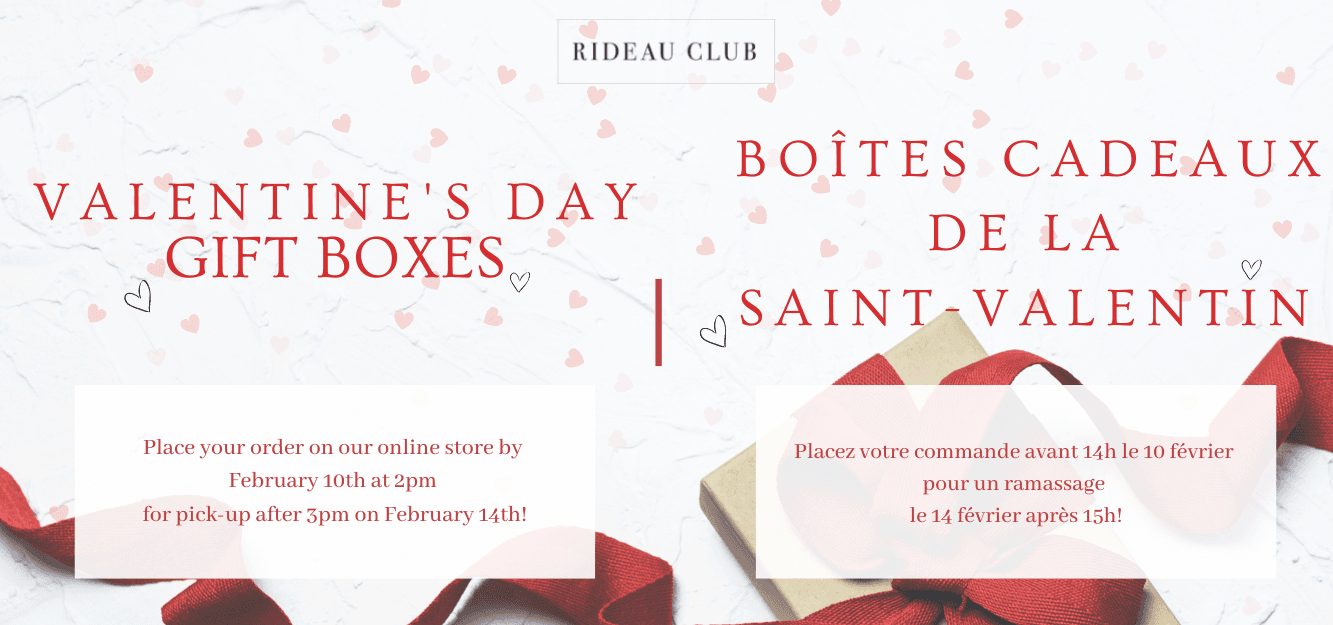 Sweet & Savory Box | $125
Hand-picked gourmet chocolates, crackers, preserves, and sweet treats
Celebration Box | $195
Collet champagne, Riedel champagne flutes, gourmet chocolates, and accessories
Place your order on our online store by February 10th at 2pm for pick-up on February 14th!
Please note that pick-up of the gift boxes will be inside the Club, and not at the loading dock. 
//
Boîte sucrée et salée | 125$
Des chocolats, des biscuits, des conserves et des gourmandises raffinés

Boîte de célébration | 195$
Champagne Collet, verres de champagne de Riedel, chocolats gourmets et accessoires

Placez votre commande avant 14h le 10 février pour un ramassage le 14 février après 15h!
Veuillez noter que le ramassage des boîtes-cadeaux se fera à l'intérieur du Club, et non au garage.
—–
*Please note that all Club events require a minimum of 72 hours cancellation notice. If you do not inform us within this window, your account will still be charged. This policy does not apply to normal dining reservations. Any questions can be directed to General Manager, Carol-Ann Goering at cgoering@rideauclub.ca
—-
*Veuillez noter que tous les événements nécessitent un avis d'annulation de 72 heures minimum. Si vous ne nous informez pas avant out durant ce période, votre compte sera quand même débité. Cette politique ne s'applique pas aux aux réservations à la carte. Toutes les questions peuvent être adressées à la directrice générale Carol-Ann Goering à cgoering@rideauclub.ca