Compelling Conversations with Hilary Pearson
February 22 @ 12:00 pm

-

1:30 pm

$65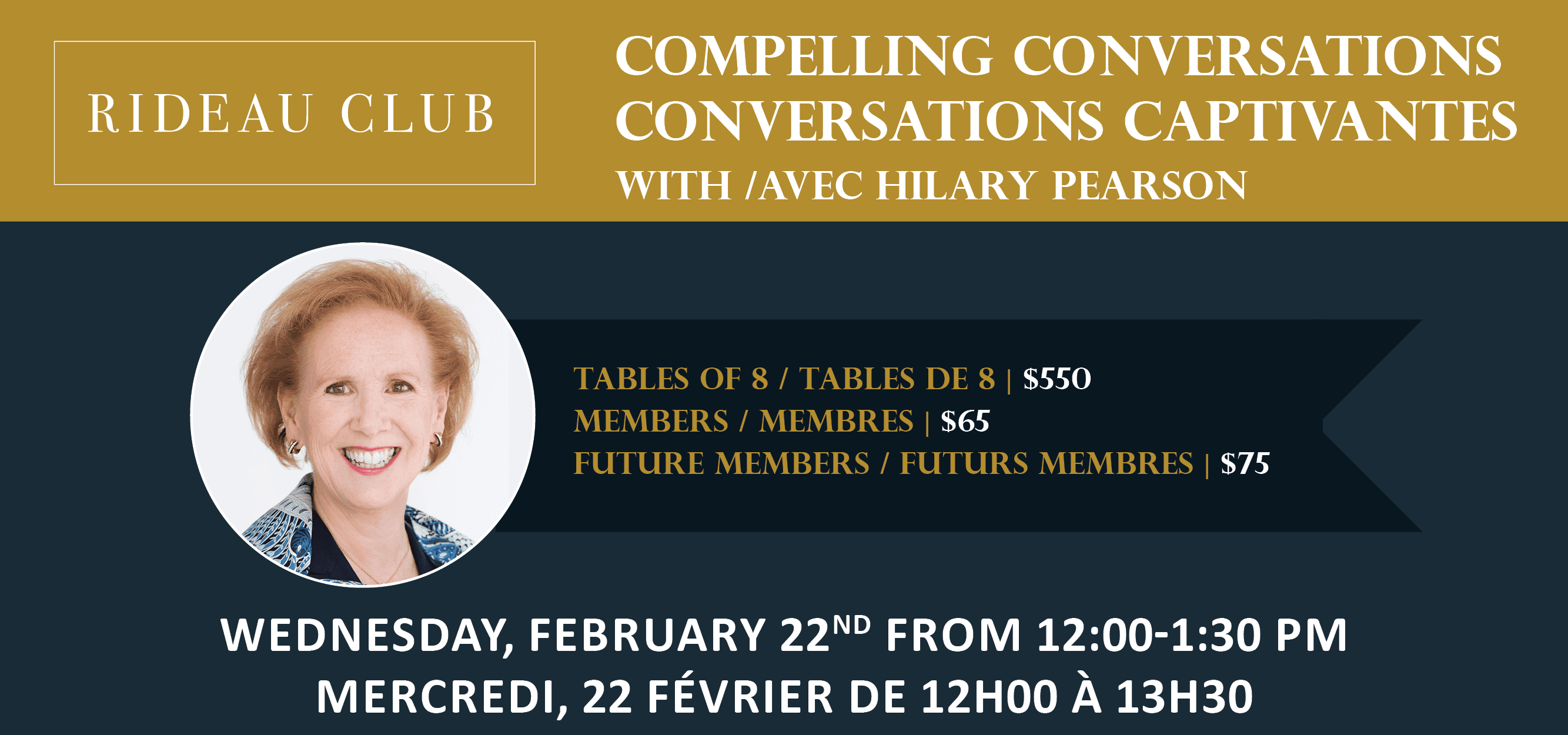 How do foundations matter? Why should we care about growing more foundations in this country?
In a new book From Charity to Change, Hilary Pearson answers these questions by describing the strategies of philanthropic organizations acting with purpose on some of our most pressing challenges: climate change, the future of cities, education and the evolving workforce, youth mental health, and the urgent need to repair and build new relationships with Indigenous Peoples.  The book paints a portrait of how Canadian foundations have made a difference in our rapidly evolving society, drawn from her personal interviews with over thirty foundation leaders.
In this talk, she will tell some of those stories and make the case for the unique value that foundations create in the ecosystem of philanthropy in Canada.
$65 | Members
$75 | Future Members
$550 | Tables of 8
//
En quoi les fondations sont-elles importantes ? Pourquoi devrions-nous nous soucier du développement des fondations au Canada?
Dans un nouveau livre intitulé From Charity to Change, Hilary Pearson aborde ces questions en décrivant les stratégies adoptées par des organismes philanthropiques qui s'attaquent à certains de nos défis les plus pressants : le changement climatique, l'avenir des municipalités, l'éducation et l'évolution de la carrière, la santé mentale des jeunes et le besoin urgent de rétablir et de bâtir de nouvelles relations avec les peuples autochtones. Le livre dresse un portrait de la façon dont les fondations canadiennes ont contribué à l'évolution rapide de notre société, à partir de ses propres entretiens avec plus de trente dirigeants de fondations.
Au cours de cette conversation, elle racontera certaines de ces histoires et fera valoir la valeur des fondations dans l'écosystème de la philanthropie Canadienne.
65 $ | Membres
75 $ | Futurs membres
550$ | Tables de 8
—–
*Please note that all Club events require a minimum of 72 hours cancellation notice. If you do not inform us within this window, your account will still be charged. This policy does not apply to normal dining reservations. Any questions can be directed to General Manager, Carol-Ann Goering at cgoering@rideauclub.ca
—-
*Veuillez noter que tous les événements nécessitent un avis d'annulation de 72 heures minimum. Si vous ne nous informez pas avant out durant ce période, votre compte sera quand même débité. Cette politique ne s'applique pas aux aux réservations à la carte. Toutes les questions peuvent être adressées à la directrice générale Carol-Ann Goering à cgoering@rideauclub.ca